Clear Braces
What are the benefits of Clear Brace Technology like Invisalign and ClearCorrect?
Traditional metal braces can seem bulky, uncomfortable, or unsightly to many adults.

However, there is no need to put off straightening your teeth because you don't want to wear traditional braces. Over 1,000,000 dental patients worldwide have successfully used clear braces to straighten their teeth in less time and greater comfort.
Clear braces consist of a series of transparent thermoplastic aligners that strategically shift your teeth into place in stages. Using the latest technology, your cosmetic dentist can calculate the optimal location for each tooth and even show you an image of the projected results before starting treatment. A beautifully aligned smile can increase your self-expression and make a positive impression on the people around you.
Compared to traditional braces, invisible braces cater to all types of lifestyles. Their transparency allows busy working professionals or public speakers to straighten their teeth without hindering appearance. Aligners may also be temporarily removed when playing a wind instrument, eating, brushing, or going to a special event. However, keep in mind that your clear braces will work faster and more effectively the more the aligners are worn. With invisible braces, you will not have to worry about mouth sores from uncomfortable wires and metal brackets. Clear braces are made of a smooth thermoplastic material that is form — fitted to your teeth for a natural feel.
Are clear braces right for me?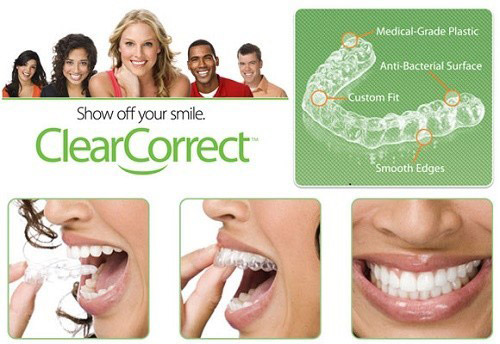 The two most commonly used brands of clear braces are Invisalign Braces and ClearCorrect. Dr. Eng has been doing Invisalign and Clear Correct systems since they started and has vast experience with both systems.
Clear braces can solve a range of dental and orthodontic problems, including the following:
Overly Crowded Teeth
Widely Spaced Teeth
Overbite
Underbite
Crossbite
Crooked or Turned Teeth
Invisalign or Clear Correct invisible braces have many advantages over traditional braces.
If you are dissatisfied with the shape of your smile, or find yourself struggling with oral health, you might consider invisible braces. While clear braces systems differ slightly, the main procedure is the same:
If so, your dentist will take impressions and images of your mouth, which are translated into a 3-D image of your smile.
Using this image, a detailed treatment plan is created that determines where each tooth needs to shift for a perfectly aligned smile. You can view each stage of the straightening process and the projected results with your dentist before you even start the clear braces treatment.
A high-tech computer system then designs a series of thermoplastic aligners that will shift your teeth in stages according to this treatment plan. Each aligner applies controlled force on specific teeth to gradually move them to achieve the best results. Each aligner is worn for about two weeks before switching to the next stage of the straightening process.
Feel free to give us a call or make an appointment to discuss the Clear Aligner choices. Dr. Eng will sit down and evaluate with you all the options. He will help you make the best choice for yourself, whether its Clear aligners or traditional braces. Dr. Eng always looks out for your best interest.