Metal Free Crowns and Bridges
Why are my teeth yellow and dull?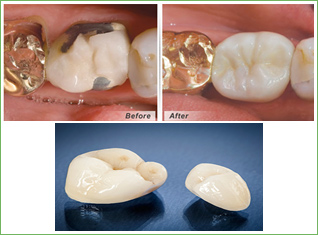 Crowns and bridges are invaluable restorations in dentistry and have been for a very long time. Over several decades of innovation, the techniques and materials used to complete tooth repair and replacement with these methods have improved significantly. Crowns and bridges consider the full extent of your needs, from esthetics to cost to longevity.
Dr. Eng works with various materials for crowns and bridges. He prefers the e.max® system for lifelike, durable restorations that last and NO METAL. Made from monolithic lithium disilicate ceramic, e.max® restorations possess the specific characteristics that allow them to blend into the smile. Inlays, onlays, crowns and bridges appear translucent and reflective while providing the fit and durability you need for comfort and functionality.
Dental Crowns
A crown may be necessary when a tooth has been badly damaged. Biomimetic philosophy means minimizing the amount of tooth structure removal. Dr. Eng generally doesn't like to do full crowns unless necessary or more often replacing old full crowns. If a full crown is needed usually all ceramic crowns are done. Zirconium or Zirconium layered crowns with NO METAL are used. Depending on each situation, Dr. Eng works with all porcelain crowns, high-quality gold crowns, and porcelain fused to metal crowns.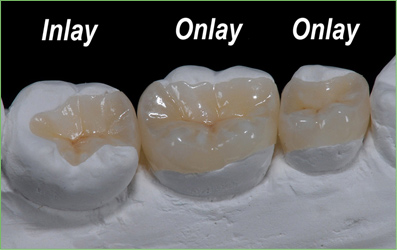 Inlays and Onlays
In the past, a tooth that could not be repaired with a filling would require a full dental crown. Dr. Eng always diagnostically starts on the tooth and tries to do the most conservative preparation as possible. His choice is inlays and onlays. Today, it is possible to treat damage with precision ultraconservative restorations appropriate for each situation. Inlays and onlays could be called Indirect restorations or even partial crowns. These restorations are made in a dental lab from a model of your tooth. An inlay is smaller, fitting within the cusps of tooth structure. Onlays are designed to repair damage that has extended over one or more cusps. These restorations are bonded to the chewing surface of the tooth, creating strength and durability for years. Materials of choice are Emax and Majesty Hybrid which are specialized made by a Biomimetic Dental Lab.
Bridges
Tooth loss is an issue to address quickly. If a space is left between two teeth or at the very back of the mouth, other teeth will shift. This may affect the bite. When there is a gap, it is also likely that you will favor the opposite side of the mouth when chewing. Ultimately, this will place too much stress on the joints and muscles of the jaw, potentially leading to uncomfortable symptoms of TMJ.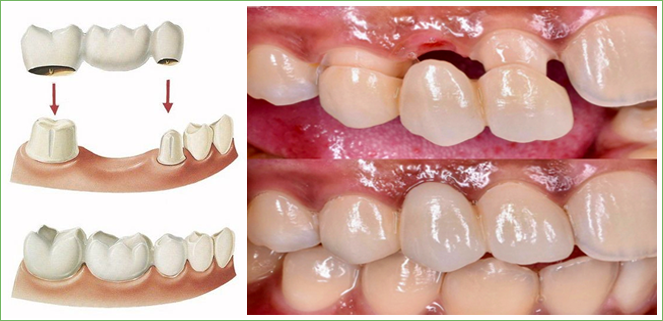 A dental bridge is a proven restoration that provides a solution to tooth loss. This prosthesis is made based on a model of your mouth. The fixed bridge looks like three or more separate teeth. Each individual "tooth" is made to fit against the opposing tooth. The crowns are bonded to the teeth adjacent to the empty space. This design anchors the artificial tooth or teeth in place.
Tooth replacement may also be performed with dental implants. During your consultation, Dr. Eng will discuss all available options so you may make an informed decision about your dental care.
Restorative dentistry considers the natural oral structure and dental materials. Dr. Eng's biomimetic and conservative philosophies will help you choose the most conservative option for your tooth.