Elite 02 Eccovision Sportsguard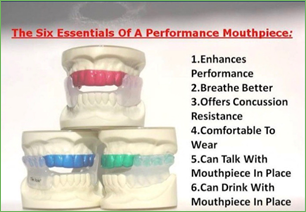 The HEART of this SportsGuard is utilizing an ingenious device by Dr. Allen Moses, Espress4Power.
Scientific Principles on which the Express 4 Power is based:
When the head is ideally balanced on the spinal column, the nervous system is facilitated for optimal performance.
Head balance for facilitated athletic performance is achieved by proper positioning of the jaws in a custom mouthpiece.
This jaw positioning is precise and sensitive to within 1/2mm in 3 dimensions.
When the jaws are properly positioned for optimal head balance in a custom mouthpiece, facilitation of athletic performance is achieved for all sports:
Neurological performance is facilitated
The neck muscles are strengthened making them more resistant to concussion
Overall strength is increased
The airway is dilated for better breathing
The athlete can talk and take a drink with it in place
It is so comfortable it stays in the mouth
After completion of the protocol from Dr. Moses, I will go one step further for verification of the most optimal mouthguard position giving the absolute greatest amount of oxygen airway for maximum performance.
With my current knowledge of the most advanced technology utilizing the Eccovision or "EKG for the Airway", I will verify, titrate and refine my findings of the ideal device setting.
This position is based on the MEASUREMENTS OF YOUR BODY'S UNIQUE AIRWAY SPACE telling us what is the optimal position.