Andrey Eng, DDS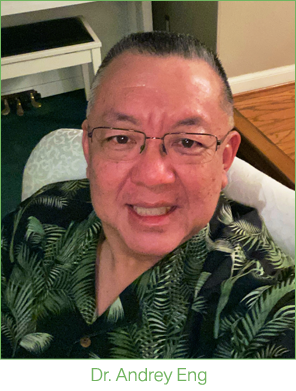 Dr. Eng was born and raised in southern California, in the city of Los Angeles in what is better known as the ghetto, 48th and Hoover was south central LA just 11 blocks south of USC. His dad was a mechanical engineer and mom was a seamstress. The family was poor but his parents worked hard and gave everything to their kids and family. Eventually Dr. Eng's family moved to the Crenshaw area and he spent his life there prior to college. He attended Dorsey High School, and played football and tennis. During his first year playing football, his mom told him "You have to stop playing football." When Dr. Eng inquired as to why, she replied, "Because you just got braces and I don't want them to get ruined." So football was short lived, but tennis (as the safer and mom-approved sport!) was played throughout high school. The varsity tennis team competed as one of the top 3 teams in the city for the 4 years in high school.
Family
After graduating, Dr. Eng attended USC for the next 8 years. For his undergraduate degree he studied Nutritional biology, and received his doctorate degree at the USC school of dentistry. It was during his first year of college in 1977 that he met his eventual soulmate, Vickie. They dated for 8 years and were married after Dr. Eng graduated from dental school. Vickie graduated from the USC school of pharmacy. After settling in Yorba Linda in 1987, they had two girls, Mandy and Lauren. Mandy, the oldest, graduated from UC Berkeley with a degree in Mechanical Engineering. She was a Satellite & Stress Analysis engineer at Boeing in El Segundo. Now she just accepted a position with Applied Medical a medical device company. Lauren, the youngest, graduated with her doctorate in Pharmacy from USC. She finished a residency in Amcare specializing in cancer. Lauren just accepted an Amcare pharmacist position at Martin Luther King Hospital in Compton. Neither girls wanted to pursue dentistry as they both think it's gross to put your hands in people's mouths!
Andrey Eng, Dentist
Dr. Andrey Eng loves being a dentist, and has wanted to be a dentist since he was five years old. His dentists growing up were great influences and helped guide him. One of Dr. Eng's dentist mentors even worked on movie stars like Elizabeth Taylor and Barry Manilow, and Dr. Eng has seen some of their x-rays. With great passion, Dr. Eng is constantly educating himself. He loves new technology and wants to incorporate any that will provide the absolutely best care for his patients. From minimally invasive dentistry to high tech lasers it's all about taking care of his patients whom he treats as friends.
Professional Dental Experience & Associations
USC College of Letters, Arts & Science in Biology - 1981
USC School of Dentistry - 1985
UCLA TMJ and Facial Pain Preceptorship - 1986 to 1988
American Dental Association - Member
California Dental Association - Member
Academy of General Dentistry - Member
Academy of Laser Dentistry - Member
Academy of Laser Dentistry Standard Proficiency - Certified
American Academy of Systemic Health - Member
Academy of Biomimetic Dentistry - Member
World Congress Minimal Invasive Dentistry - Member