Laser Dentistry
XLase Semiconductor Laser
T4MED XLASE 1064 SEMICONDUCTOR LASER
Technological Advancements in Dentistry Make Your Visit More Comfortable
Dr. Andrey Eng, DDS would like to introduce you to our newest addition to our office, the 1064XLASE! This laser is state-of-the art and allows us to do our work in a more seamless manner while providing all of our patients with the utmost comfort and ease knowing they are in knowledgeable hands with the best tools.
There are many benefits of the 1064XLASE, but the most impactful benefit to our patients is the easing of pain and healing in typical dental procedures. With this new machine, Dr. Eng can eliminate painful cutting, swelling and post-operative pain. The entire healing process in general is much faster with procedures done with the 1064XLASE due to its ability to promote blood supply and the formation of healthy tissue in the mouth.
Dental Services & Procedures
Removal of soft tissue cysts and small fibrous growths
The ability to desensitize teeth that have exposed roots and are uncomfortable to temperature and sweets
Elimination of pain and shortening the duration of aphthous ulcers (canker sores and fever blisters)
Ability to not cut the gums by reshaping the gum tissue in the anterior of the mouth to create a better smile.
Improved healing time and speed of healing after a deep cleaning procedure. Time of the procedure is also faster.
Dr. Eng and his entire staff are committed to staying on the forefront of technological advancements in dentistry that benefit our patients. This new laser allows us to do just that! The 1064XLASE is a perfect example of a new generation of dental lasers that offer more advancements and versatility than any other dental lasers previously on the market.
---
Oralase Low Level Laser Therapy
The FDA cleared MedX Oralase portable laser is a drug free solution to eliminate pain and accelerate soft and hard tissue repair. Over 325 dental research studies have reported positive effects of laser therapy in more than 90% of the trials!
Fast and easy to setup.
Only 1-2 minute treatment times and yields excellent results.
Lightweight with a built in rechargeable battery.
Uses an infrared GaAlAs laser diode, plus three visible red guide LEDs.
Interchangeable fibre optic light guides provide ready access to intra-oral treatment sites.
Kit includes a convenient carrying case with laser safety goggles.
"I must tell you, that I continue to be amazed at the MED-X's ability to numb primary teeth. I am half waiting for the shoe to drop as this is too good to be true. Parents think it is cool and wish it worked on adult teeth, and my chair time for a simple DO is more than cut in half. Thank you for talking me into giving it a try."
– Dr. Gary Myers, Florida
Reduce Pain And Swelling, and Accelerate Healing With MedX Laser Therapy!
MedX OraLaseTM is an ergonomically designed portable low level laser device that offers dental staff a proven, drug free solution to eliminate pain and accelerate soft and hard tissue repair. Fast and easy set up, 1 – 2 minute treatment, excellent results for happier patients.
Thirty five years of experience worldwide.
Over 325 dental research studies reporting positive effects of laser therapy in more than 90% of the trials.
Effectively control pain and decrease swelling from invasive dental procedures as well as stimulate healing.
---
DIAGNOdent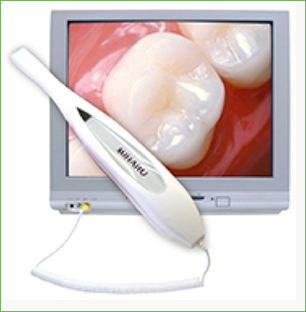 A new technology that we use is a small laser instrument called DIAGNOdent. This laser scans your teeth with harmless laser light searching for hidden decay.
Using this tool, we can locate hidden decay before it destroys tooth structure (from the inside out) this is a major goal for modern dentistry.
DIAGNOdent is a major breakthrough that allows Dr. Eng to locate hidden decay, and with treatment stop the spread of disease before it destroys the tooth from within.
Intra-Oral Camera
An intraoral camera gives you, the patient, a view of what the dentist sees. This device is about the size of a toothbrush. Decay, broken fillings, fractured teeth, and other dental problem can be viewed so that we can discuss with you any treatment needed. With a clear understanding of your dental needs we can decide together what the best treatment is for you.
---
Soft Tissue Laser Dentistry Procedures
Gum Procedures:
Dental lasers can be used to produce a variety of results in relation to patient's gums. We can use dental lasers to lengthen the crown of the tooth by reshaping the gums to expose more of the tooth. The end result is a less "gummy" smile, and a more natural look to your teeth. Further, this procedure can help to provide a stronger foundation for the placement of restorations such as crowns or veneers.
Muscle Attachment:
Sometimes children can suffer from being tongue tied, which is just another way of saying that there is very little movement allowed by their frenulum. Laser frenectomy treatment can free up their tongue to move freely about their mouth.
Cold Sore Treatment:
We are able to use dental lasers at a low intensity to reduce the amount of pain associate with cold sores. Patients usually report a much quicker healing time after having canker sores treated with these low intensity lasers.